file photo
Here is the latest on severe weather on May 26-27.
8:15 a.m. - Humboldt Volunteer Fire Department reports .55" of rain this morning.
8 a.m. - Heaviest rain in past 24 hours include 1.8 inches west of Murray on Fourmile Creek.
4:53 a.m. - Brenner Field reports heavy rain, wind gust of 24 mph 
4:08 a.m. – flash flood watch issued for Gage, Jefferson, Johnson, Nemaha, Pawnee, Richardson and Saline counties until 8 a.m. Thursday. Over past 72 hours, 2.5 to 3 inches of rain in Muddy Creek area south of Auburn to Barada.
1:15 a.m. – Nebraska City airport reports thunderstorm and rain or light rain through 6:35 a.m. Maximum wind gust was 30 mph.
8:56 p.m. – Flash flooding Lincoln County until 3 a.m. Between 1 and 2 inches of rain have fallen. Lake Mahoney State Park impacted.
8:49 p.m. – Flash flooding at Hitchcock and Red Willow counties.
8:30 p.m. – Severe thunderstorm warning for Franklin, Harlan, Kearney and Phelps counties in Nebraska. Flood advisory for Gosper County.
8:26 p.m. – 54 mph wind near Minden. 5" limbs blown down in Salina, Kan.
7  p.m. – Power lines down in the city of Salina, Kan.
6:42 p.m. – tornado briefly touched down near Decatur, Kan. Funnel clouds seen with rapid rotation.
Hail reported in Red Willow County.
6:30 p.m. -- 66 mph winds reported in Mitchell County, Kan.
Storm cell reported near Saint Paul, Neb, north of Grand Island
6:09 p.m. – tornado reported near Culbertson in Hitchcock County.
6 p.m.  -- Tornado reported in Rawlings County, Kan., south of McCook
Tornado in Hitchcock County listed about 5 minutes near Danbury.
Hail reported at Dawson County, Neb., near Cozad.
5:41 p.m. – third tornado spotted near Rawlins, Kan.
4:15 p.m. - Dundy County reports telephone poles and trees down. Stovepipe tornado. Golf ball sized hail. Storm spotters report tornado in Hitchcock County.
3:40 p.m.  -- Trained spotters reported tornado and damaging two-inch hail  in Dundy County, Neb., near Benkelman.
The National Weather Service described the tornado as "large and extremely dangerous" moving at 25 mph.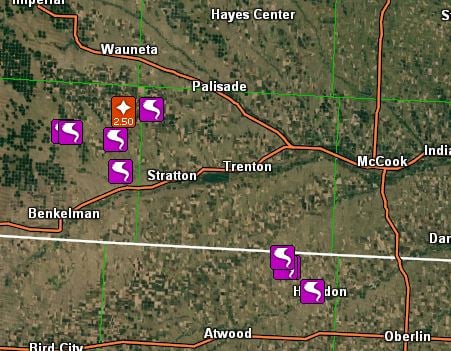 The warning  was in effect until 4:15 p.m. Benkelman is located about 300 miles west of Tecumseh.
3:30 p.m.  -- 60 to 70 mph winds and dime-sized hail reported in Russel County, Kan. Tree uprooted.
Russel, Kan., is 230 miles southwest of Tecumseh.