FALLS CITY – Representatives of rural firefighters told county commissioners Tuesday they would support a single 911 dispatch center for Richardson County.
Phil Hitchcock, Verdon fire chief and president of the Richardson County Mutual Aid Association, said firefighters have heard about discussions between Falls City and the county board regarding merging 911 service.
Hitchcock: "Nobody's ever asked the firemen how we feel about it, any of it. They talk to … the two boards talk to eachother, but we never get asked and we would like to have a voice in it."
The firefighters say Falls City dispatchers are used to seeing 911 addresses for incidents, but sometimes the location is best described by narrative, such as a field south of town. They said firefighters provide traffic control on some scenes, but are not linked to sheriff's office radios.
Sheriff Hardesty said he can switch his radio over to a local fire department's frequency, but then he can't hear the 911 center.
Tent Phillips, assistant Humboldt fire chief, said the sheriff's office should take over the paging and dispatch to minimize opportunities for mistakes and make best use of new communications equipment.
Phillips: "Our jobs as volunteer firefighters, volunteers EMTs is not difficult. It's to get called to an event, show up, do your job, go home and be safe about it. We want what's best for our communities. That's why we do what we do and that's why we are here today."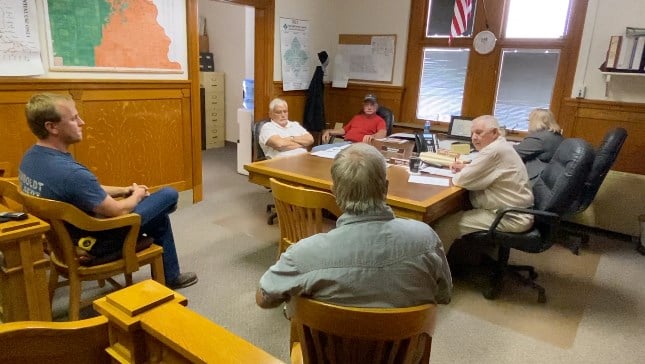 Board Chairman Dave Sickel thanked the firefighters for speaking out and said the county is continuing to work on the issue.
Sickel: "Way back the county did not take on the responsibility of 911 and the city did. It is the county's job to do it and we're trying to get that done … so far we haven't been able to get it done."
Commissioner John Caverzagie said the county proposes a board or committee to provide oversight to a unified 911 dispatching.
Caverzagie: "So, if there were issues like you're talking about, it could be addressed."
Hitchcock said the county is responsible for 911 and would be most accountable for rural residents.
Hitchcock: "I'd say the majority right now would be in favor a move."