FALLS CITY – Richardson County commissioners may have found their answer to 911 dispatching dilemmas with the Southeast Communications 911 Center.
Commissioners expressed interest Tuesday in joining the 911 dispatching center in Beatrice to improve service and spread out the cost of upgrading to the next generation 911.
Commissioner John Caverzagie said Tuesday that negotiations with the Falls City City Council have stalled, but Sheriff Rick Hardesty continues to push for the elimination of the current process of calls going to the police station and then being transferred if the emergency is outside of city limits.
Carla Zarybnicky, 911 director in Beatrice, agreed.
Carla: "If you're having a heart attack or your wife is having a heart attack and you're doing  CPR, you don't want to hear, 'oh, I'm going to transfer you.' "
Beatrice Police Chief Bruce Lang said the 911 dispatching center in Gage County would add staff to have three dispatchers 24/7, if Richardson County signed on for services.
He said reliability of service is linked to the number of dispatchers.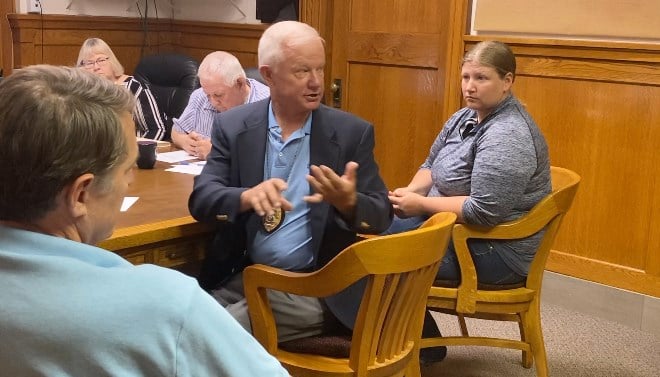 Lang: "When you have a bad accident and we send a state trooper, we send a sheriff's deputy. We have local fire and EMS going to those calls. Well at the same time those things are going on something else happens in Richardson County or something else happens in another jurisdiction,
if you have one dispatcher they are completely overwhelmed with the first incident. And, if you have four dispatchers or three dispatchers sitting there they can share that work load. They can help eachother."
Lang said the invitation to join is also open to Pawnee, Johnson and Nemaha counties.
Lang: "The day of having a jailer dispatcher, for example, as we know, is ending. The training requirements, the staffing requirements just aren't going to allow that to happen."
Joining the Beatrice dispatch center would not eliminate the need for Richardson County to buy a new $200,000 call console and the county is considering erecting a new communications tower near the sheriff's office.
Richardson County has radio antennas at the courthouse and a fiber optic line to the sheriff's office and detention center.
Lang said Gage County consolidated 911 dispatching in 1994 and established a 911 center to add equipment,  and dispatchers. When the city of Crete joined in 2015, they went to two dispatchers 24/7.
The center now serves 17 different fire and rescue departments and can staff up to three dispatchers.
Lang said software is currently integrated with police cars to allow e-citations and electronic record keeping.
He said a central dispatching for communities up to 70 miles away is not too large.
Lang: "We get to feeling like we are a bigger fish than we really are and so we make this more difficult. I've also been around the block enough times that I know that change is hard. Giving up our sandbox is hard and we deal with the everywhere, including the City of Beatrice. No matter what you're working on. Understanding the difference between what's right and what's best and what we want, sometimes, are different things."
Lang: "One of the things we all lose track of, in Nebraska and certainly in places like southeast Nebraska, is we are all very small. We want to think of ourselves as a big fish, but in the real world we're really small."
Lang: "When we first, back in '94, when we first started doing this, we heard the proverbial thing, 'well, if I call 911 I want to know who I'm talking to, they won't know that it's Uncle Abe's barn, turn left and go.' Well those days are over because of mapping and GPS and computer systems they are way better than that dispatcher that you hired that might or might not know where Uncle Abe's barn is."