BROKEN BOW—A new Information Technology business is available for residents of Broken Bow. Straight Up I.T. Solutions is a new consulting company owned by Justin Coble and located at 720 South E. in Broken Bow.
Straight Up I.T. Solutions celebrated a ribbon cutting with the Broken Bow Chamber of Commerce on August 6, 2020. Coble has been doing I.T. since high school and previously worked as a partner with EZ IT Solutions but decided to go out on his own, adding that joining the Chamber makes this new venture very "real!"
"I offer anything technology-wise: Commercial, residential, managed I.T. services, PC repair, security, surveillance. Pretty much anything technology I'll work on and do," Coble told KCNI/KBBN.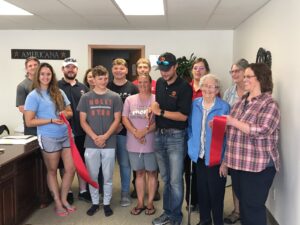 Coble said his company will specifically include walk-in PC repair and service to Apple products, among other services. He appreciates everyone's help in the community and his mom, Misty Coble Torres, whom he says is a big supporter and the two will work together.
Straight Up I.T. Solutions is open Monday through Friday 9 a.m. to 5 p.m. and can be reached on Facebook or by calling 308-880-4094.
"Broken Bow will always be home to me," Coble said. "Hopefully it [the business] will take off and grow big, that's the main goal."