Areas Impacted: All of western and north-central Nebraska are under a slight risk for severe thunderstorms.
Timing & Duration: Development is expected in the panhandle around 5 PM CT this afternoon. Storms will then track to the east southeast into the evening and overnight hours Friday night. Some storms may linger through the day on Saturday. Storms on Saturday are not expected to be severe.
Impacts: Property damage due to very large hail and power outages are possible due to strong winds. Persons planning outdoor activities this afternoon and tonight should closely monitor the weather situation this afternoon and tonight, and be prepared to quickly seek shelter if threatening weather approaches.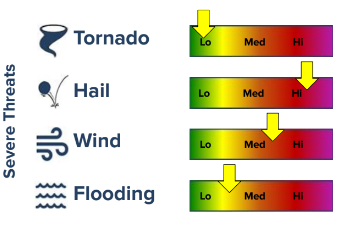 Hazards: Primary threats will be hail 2 inches in diameter or greater and isolated wind gusts 75 mph or higher.
Certainty & Considerations: Confidence is moderate to high for timing, duration, and location of thunderstorm development.