BROKEN BOW–A beautiful late August evening was filled with music, laughter, and delicious ice cream as part of the Broken Bow Chamber of Commerce Summer Celebrations–Music in the Square. Nebraska State Bank (NSB) presented the Platinum Pearls, a band out of North Platte featuring three musicians who performed a variety of genres.
Community members relaxed in lawn chairs and kids played on the playground in downtown Broken Bow while enjoying music ranging from the Nitty Gritty Dirt Band to Adele. Food trucks were present on the square and NSB served bowls of scooped ice cream. "Cash" the NSB Eagle waved to the crowds and also threw out free t-shirts.
KCNI/KBBN spoke with Tammy Schall of Nebraska State Bank who said the staff enjoys being part of community events.
"Nebraska State Bank enjoys giving back to the community. Our employees come down here and enjoy lunch and we just wanted to be part of it and do something fun," Schall said.
NSB employees have the opportunity to pay $5 to wear jeans on Friday, something Schall says they all love doing. That money is collected over time and donated to a local organization. This week, the donations were gifted to the Seven Valleys Historical Society in Callaway to help fix some of the damage caused by storms earlier this summer.
"I went over to Callaway and we presented the Seven Valleys Historical Society with a $1,000 donation. They'd had some damage from the recent storms and so we're hoping this will help them out with some of their repairs so that was really fun to be a part of that, knowing that's going to a good cause," Schall said.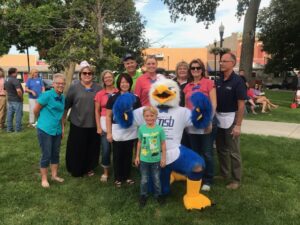 The next Summer Celebration –Music in the Square is scheduled for Thursday, September 8 with music by Mohanna with Red Shoes and ice cream by Bruning Bank.