BROKEN BOW—As part of a human trafficking awareness campaign brought to Custer County by the Broken Bow Area Rotary, nearly 60 community members gathered on Sunday evening to learn how to arm themselves with the knowledge in preventing the exploitation of children, friends, and neighbors.
Parents, businesses, organizations, etc. are invited to another public assembly on Wednesday, November 10. There will be an assembly at 12 p.m. AND an assembly at 5:30 p.m., both at the Broken Bow Municipal Building. Each of these assemblies will include a presentation from Global Connections International and Custer County Sheriff Dan Osmond. The trailer will be open and parked nearby. A question and answer period will follow each assembly.
The purpose of the public assemblies are to give parents an insight into what their children will be viewing throughout the week as part of the mobile education experience. Seven public school districts (Broken Bow, Anselmo-Merna, Ansley, Arnold, Callaway, Sargent and Loup County) will be participating in the educational opportunities, bringing their 6-12 grade students to Broken Bow for an assembly, and an opportunity to tour the trailer.
Human trafficking—essentially the buying and selling of human beings—is the fastest growing illegal enterprise in the world generating more than $152 billion per year ($9.8 billion in the U.S.). Global Connections International (GCI) President/CEO Jim Weber told Sunday night's audience there are more than 40 million human trafficking victims worldwide with approximately two million in the United States. He said approximately 500,000 children are sold for sex repeatedly each year in the U.S. with 12-14 year olds being a largely targeted group.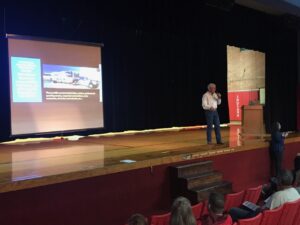 What are the chances of being identified and rescued after being trafficked? 1 in 100 worldwide, Weber said. He went on to say the U.S. is the top 3 ranked country for human trafficking activity and the number one purchaser of commercial sex in the world.
"The thing is this is hidden in plain sight more often than not," Weber said. "You have no way that you can paint a profile of a trafficker. They look like anybody and everybody that you see out there in the general public."
This form of modern day slavery—sex trafficking or forced labor—is more sophisticated these days, Weber said, with traffickers exploiting vulnerabilities to victimize people: lack of safety at home, abuse, neglect, homelessness or runaway status, lack of proper care in the child welfare system, lack of trust in government institutions, economic hardship, isolation, and displacement.
Victims can be lured into trafficking using promises, psychological manipulations, provision or drugs and alcohol, and violence.
Weber explained that in a majority of cases, traffickers use social media/the Internet to identify and research victims in order to force or coerce them into labor, services, or sex acts for financial gain of the trafficker.
Jim Weber implores people to talk with each other to educate and empower in the fight to end human trafficking within their own communities. Public events and the mobile education experience are designed to raise awareness and offer tools for prevention to everyday people.
"We want to encourage everyday people to get involved in this fight within your own communities and we're currently helping protect America's families by exposing millions of everyday people to the signs of human trafficking here in the U.S.," Weber said.
Also on Sunday night, Sheriff Dan Osmond identified some of the most dangerous mobile applications as Instagram, TikTok, and Snapchat. He said these apps give people (not just kids) the attention they are seeking and sharing their life online can open them up to traffickers who take advantage of that information.
Sheriff Osmond says parents need to be involved in their kids' online activity. He said parents should have their own accounts to monitors those of their kids, but most importantly should have conversations with their kids.
"You don't have to be a rocket scientist to help your kids with this. It just takes a little bit of time on your part," Sheriff Dan Osmond said. "These apps—it isn't necessarily bad if your kids have them because there's a lot of interesting things on it. It's if they use them without a little bit of guidance and that's where it can become a problem."
He went on to discuss the dangers of location settings, public vs. privacy settings, and troubling social media trends.
"You got to have that conversation, maybe it's not comfortable, maybe you still have to have it and it doesn't have to be a three-hour conversation. Take a couple minutes, talk to them, let them know how you feel. Make them understand what you think and maybe understand what they think too. I think the biggest thing that comes with a kid and their cell phone is they feel like it's privacy. They feel like they should have some trust and they should be able to have their phone and you not have it 24/7 looking up what they're doing. I think you have to give kids a little bit of that but you still have to check in on them once in a while too. Just make sure they're staying safe. Have that chat with them, talk with them and let them know what's going on, how you feel, what they should do and what you expect of them," Sheriff Osmond said.
CGI focuses on connecting people to the world's greatest needs, specifically the battle against modern-day slavery. "There is a lot of evil out there in our broken world, but nothing more deplorable than the exploitation of fellow human beings for greedy profit – especially innocent children," the website states.