BROKEN BOW—For the first time in several years, the Jennie M. Melham Memorial Medical Center (JMMMMC) resurrected its health fair as Healthcare on the Square held on Thursday, September 8 in Broken Bow. With more than 40 vendor booths soaking up the sun in the city square, representatives from all over the local healthcare spectrum were present to share vital information with community members.
Stroke education was the driving force behind the event thanks to the initiative from Nebraska Department of Health and Human Services (DHHS) Stroke Program Manager Becka Neumiller who reached out to Melham with grant money and the request for a venue to host guest speaker Dr. Albin.
Healthcare on the Square not only provided education on strokes, but also a variety of other health topics such as senior living, organ donation, case management, medical alert systems, lung health, home care, hospitals, hospice, physical therapy, early childhood, handwashing, Veterans Affairs and suicide prevention, skincare, lung health, fall prevention, fitness, and mental health.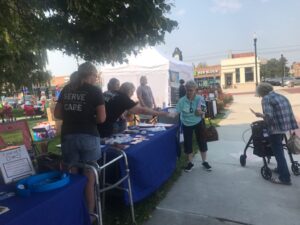 Melham Acute Care Manager Taylor Arnold told KCNI/KBBN, "I think community outreach is a really important thing, getting the community involved with their health and making them aware of all these different aspects of your health and wellness—there's so much to your health."
Melham Executive Assistant & PR Coordinator Jeana Chancellor and ED Manager/Trauma Coordinator Jenna McIntosh were pleased with how the event came together thanks to the help of the DHHS, the Broken Bow Chamber of Commerce, and all of the healthcare vendors. They said students from Arnold, Broken Bow, and Callaway were able to take part in the educational opportunities of the day.
"Melham's motto is partnering with you to inspire healthy living through quality care so this helps bring the community into that quality care," Jeana Chancellor said.
Melham Wellness Center gift certificates were given away along with bike helmets for children, which according to McIntosh, were purchased with the fees paid by vendors to participate in the event.
"We're excited about that. That's another injury prevention thing with our trauma designation that we do to protect our children from head injuries or concussions when they're riding their bikes," McIntosh told KCNI/KBBN.
Chancellor and McIntosh hope to make Healthcare on the Square an annual event.
Click here for more about the new suicide prevention phone number: 9-8-8.