CUSTER COUNTY—It's the most wonderful time of the year—for deer hides! The benefits a deer hide can provide can be life changing to wheelchair-bound veterans. Deer season is underway and Elks Lodges across the United States are collecting deer hides to be made into gloves for our nation's veterans. Click here for more about the Elks Lodge Veterans Leather Program.
Broken Bow Elks Lodge representative and state chairman of the deer hide project Earl Hansen told KCNI/KBBN the deer hides are collected and sent to the southeast corner of Tennessee to be cleaned and tanned. From there, they are made into padded gloves—winter sets with fingers and summer sets without fingers—to be donated to veterans who are now in wheelchairs.
"We try to get people to donate their hides to us for the veterans and then when we get them in we send them to Tennessee. And they make gloves out of them for the wheelchair patients," Earl Hansen said.
Hansen said local hunters can donate their hides to the drop box located on the north side of Gateway Motors in Broken Bow (436 S 1st Ave, Broken Bow, NE 68822). The donation box is labeled and lit. He said it is certainly better to donate deer hides to the Elks Lodge for the veterans than to see hides thrown in the ditch or the river.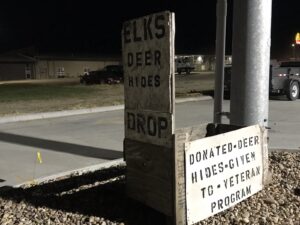 "We want the hides! The more hides the better," Hansen said.
Hansen said 855 hides were collected last year in the state of Nebraska and more than 17,500 hides were collected nationally. Antelope, elk, and deer hides (bucks and does) are accepted. Hansen also said one pair of gloves is on display at the Bow Booterie if anyone wants to see the gloves.
Hansen also gave thanks to Evans Feed for donating the salt for the deer hides treating process and thanks to Thomas McCaslin and Gateway Motors for the use of trailers, forklifts, anything needed to haul them.
"If we don't have that support, we couldn't do it," Hansen said.
The collection box will be available until January 16, 2022.