Christmas Day is a great time to spend with family and enjoy Christmas music! KCNI/KBBN will feature Christmas music throughout the day and special Christmas Day books will also be read during local news, brought to listeners by the Broken Bow Public Library.
The three books to be featured on Christmas Day local news at 7 AM, noon, and 5 PM on both KCNI (1280 AM, 96.3 FM, 1280.com, KCNI App) and KBBN (95.3 FM, KBBN.com, KBBN App) are The Christmas Owl, The Christmas Feast, and The Legend of the Candy Cane.
The Christmas Feast by  Nathalie Dargent
When Wolf, Weasel, and Fox steal a turkey for their Christmas feast, no one expects the meal to have her own ideas about the celebration. Don't they want to fatten her up first? Haven't they even hung up mistletoe or baked gingerbread? But the more time the three friends spend with Turkey, the less anyone wants the fun to end…
The Legend of the Candy Cane by Lori Walburg
One dark November night, a stranger rides into a small prairie town. The townspeople wish he were a doctor, a dressmaker, or a trader. Then a young girl named Lucy befriends the newcomer. When he reveals his identity and shares with her the legend of the candy cane, she discovers fulfillment of her wishes and the answer to her town's dream. Now will she share what she has learned?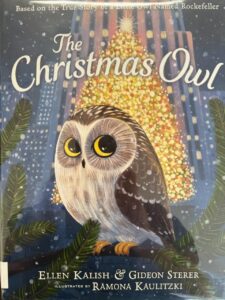 The Christmas Owl (Based On A True Story) by Ellen Kalish & Gideon Sterer
When Little Owl's home is cut down by people saying it will make a beautiful Christmas tree, she's not sure she wants anything to do with Christmas, whatever that means. But then she is saved by a woman named Ellen, whose house is merrily decorated for the holiday, and filled with birds who need someone to care for them. Surrounded by kindness and helpful new friends, Little Owl begins to wonder if Christmas might not be such a bad thing after all….
Co-written by Ellen Kalish, caretaker of the real owl found inside the Rockefeller Center Christmas Tree, The Christmas Owl is a charming story of friendship, compassion, and the true meaning of this special time of year.