CUSTER COUNTY–The 2022 4-H Recognition program for Custer County will be held Sunday, November 20 at 2 p.m. at the 4-H Building in Broken Bow. Sponsors for the event are Arrow Seed Co., Inc., Nebraska State Bank and Trust Co., and Nebraska Extension in Custer County.
The program will begin at 2:00 p.m.  The purpose of the program is to recognize 4-H'ers, leaders, and volunteers with awards for their various efforts in club work and 4-H activities.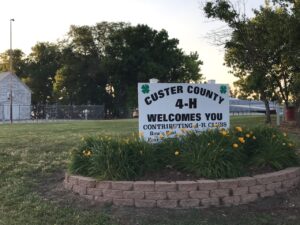 Some of the awards being presented are "Friend of 4-H," Outstanding 4-H Leader, best all-around exhibitors, the Leo C. Cooksley Memorial Award, the Joyce Clarke Memorial Community Service Award, and various other honors.  Two and five-year members will receive membership pins. 4-H leaders will receive recognition for their years of service.
Results of the 4-H Council election will be announced. Cookies and a drink will be provided by the Custer County 4-H Council following the award presentations.
During the August 11 Ag Society meeting the 4-H Council reported to the fair board that the program would change to a Sunday afternoon rather than a Friday night event held in the past and virtual events held the last two years due to COVID-19.
For more information about the 4-H Recognition program, contact Colleen Peterson, 4-H Aide, at 872-6831.