CUSTER COUNTY–Those who pledge their head to clearer thinking, their heart to greater loyalty, their hands to larger service, and their health to better living received well-deserved appreciation during the 2022 Custer County 4-H Recognition Program held on Sunday, November 20 at the Custer County Fairgrounds.
Results of the 4-H Council Election were announced following last week's virtual election. Candidates are elected for a two-year term to the 4-H governing body:
District 1: Kyla Olson
District 2: Holly Bumgarner
District 3: Chad Coleman
District 4: Christy Berghorst
District 5: Chase Christen
District 6: Holly Remund
District 7: Doug Nichols
District 8: Marla Stallbaumer
District 9: Lana Phelps
Youth Girls: Bailey Christen
Youth Boys: Bode Bumgarner
4-H members, their leaders, and numerous volunteers were applauded for their hard work along with the distribution of multiple special awards. Members were recognized for their years in the 4-H program and volunteers were recognized for their years of service including Wendy Glendy who has been a leader for 15 years.
The 2022 Outstanding 4-H Leader Award was not announced on Sunday but will be in the coming days according to 4-H Aide Colleen Peterson.
The Friend of 4-H Award is given to individuals/businesses who continue to make great contributions to the Custer County 4-H Program. Two recipients were selected for 2022 and include Sharon Roberts and Kent & Michelle Nelson.
"They're all great advocates and supporters of the Custer County 4-H Program so I'd like to congratulate them," Colleen Peterson said.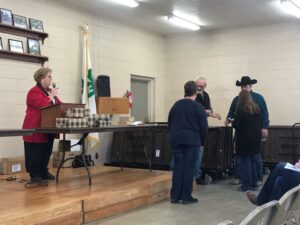 The Joyce Clarke Memorial Community Service Award was presented to the Ansley Junior Livestock 4-H Club for their excellence in 4-H community service projects during the past year. The club was given recognition for its holiday cookie making trays that were donated to the Ansley food pantry. Nineteen members were involved in the project and purchased and organized baking trays, cookie mix, cookie cutters, frosting, and sprinkles.
The club plans to do the project again this year and also donates its time to the community Easter egg hunt, baseball game concession stands, and the fairgrounds.
"Club members were happy to be able to provide these items to local families that might not otherwise have these during the holidays. The families that received the trays were very appreciative. The families let the Ansley Junior Livestock Club know how grateful they were to have the supplies that were used as family time while making cookies," Peterson said.
The Leo C. Cooksley Memorial Award was awarded to Hesston Swisher for his leadership and citizenship contributions to the 4-H program while displaying qualities of fairness, courage, and overall doing the right thing.
Swisher is a freshman at Anselmo-Merna High School, serves as president of his 4-H club, and shows sheep among other projects. The Cooksley family honored Hesston and thanked him for his service not only within the 4-H community but also for his help during the Cambridge fire and the continued assistance he gives to his family and neighbors.
When asked about receiving the award, Hesston told KCNI/KBBN, "It's awesome, I can't believe it!"
The following 4-H'ers received awards:
Outstanding 4-H Member: Sam McMillan
Champion All-Around Exhibitor: Maysa Jones
Champion 4-H Clothing Exhibitor: Maysa Jones
Champion 4-H Home Environment Exhibitor: Faith Rehbein
Best All-Around 4-H Home Economics Exhibitor: Maysa Jones
Champion 4-H Foods Exhibitor: Grace Cantrell
Most Improved 4-H Shooter: Mandi Mattox
Top 4-H Shooter: Dylan Glendy
Top 4-H .22 Shooter: Dylan Glendy
Horse Medal: Alex Berghorst
4-H Beef Hardluck Award: Kaden Miller
4-H Hardluck Award: Kaden Miller
Kaden Miller purchased a steer for his first year in 4-H and put in lots of hard work and hours to prepare him for the fair. Unfortunately, Kaden lost his steer due to bloat. He was disappointed but learned a lot from the experience and hopes to use the cash award toward next year's 4-H project.
Angus Breed Money for Registered Breeding Heifers: Breken Rynearson
Market Steers: Addison Dalrymple, Brexton Ostrand, Kali Nelson, Elliot Spanel, Brexton Ostrand
Hereford Breed Money for Registered Breeding Heifers: Owen Stallbaumer, Abby Stallbaumer, Kaycee Nelson, Kaygan Witthuhn, Mahaya Jones
Market Steers: Emma Stallbaumer, Kaygan Wittuhn, Mahaya Jones, Addison Stump, and Bindi Peters
Charolais Breed Money for Market Steers: Taylin Tobias, Paisley Seda, Carlee Bartak, Malloree Bartak, Brant Schmidt
Market Heifers: Garrett Porter, Taylin Tobias, Addison Dalrymple, Emersyn Palmer
Registered Breeding Heifers: Paisley Seda, Regan Babcock
Simmental Breed Money for Registered Breeding Heifers: Braxon Rynearson
Market Steers: Maci Smith, Tripp Oxford, Charli Pandorf, Lainey Palmer, Charli Pandorf
Shorthorn Breed Money for Market Steers: Lainey Palmer, Tripp Oxford, Lauryn Hardy, Maggie Peterson
Registered Breeding Heifers: Miles Babcock
Club with the largest percentage of entries in the 4-H Public Speaking Contest: Burr Oak 4-H Club (Leader: Charmayne Popp; Members Participating: Lillian Gregoski and Lucy Martin)
Nebraska 4-H Club of Excellence Awards:
Creative Kids 4-H Club
Four Corners 4-H Club
Four Valleys 4-H Club
Great Connections 4-H Club
Diamond Clover Awards:
Level 1-Amethyst: Leah Cox, Aleah Harder, Bryden Hollander, Paisley Seda
Level 2-Aquamarine: Izabella Shields
Level 3-Ruby: Maysa Jones
Level 4-Sapphire: Alex Berghorst, Mahaya Jones
Level 5-Emerald: Faith Rehbein
Sponsors for the event included Arrow Seed Co., Inc., Nebraska State Bank and Trust Co., and Nebraska Extension in Custer County. Peterson thanked all of the donors who make the recognition event and awards possible.
FOR MORE INFORMATION, CONTACT:
Colleen Peterson, 4-H Aide
Nebraska Extension in Custer County
Phone: (308) 872-6831