LINCOLN – Nebraska will let bars, zoos, movie theaters and swimming pools reopen and allow small concerts and auctions to resume on June 1 in all but four hard-hit counties.
Gov. Pete Ricketts says he plans to further loosen social-distancing restrictions to strike a balance between public health and the need to move back toward normal life as people grow restless.
His announcement came as the number of coronavirus deaths continues to rise. Businesses that do reopen will still face mandatory social distancing restrictions.
Ricketts is also easing some restrictions in Hall, Merrick, Hamilton and Dakota counties, but rules in those areas will remain more stringent than in the rest of the state.
Below is an outline of the new DHM guidelines come June 1 for all counties except Dakota, Hall, Merrick, and Hamilton (COURTESY: 1011 Now)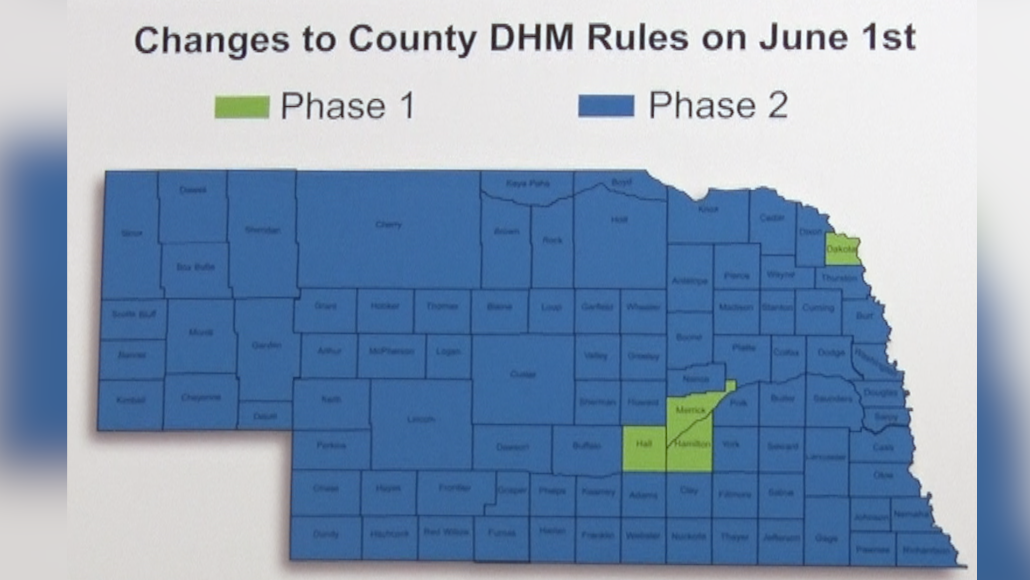 Restaurants, worship services, and daycares continue to operate as they have been in May.
Those traveling internationally are required to self-quarantine for 14 days. Exceptions for military and healthcare-related travel.
Limited-contact sports (tennis, golf, volleyball, rodeo) for both youth and adults will be allowed to resume practice on June 1. Competition can resume June 18.
Football, wrestling, soccer, and basketball are still prohibited.
Bars can reopen under the same rules as restaurants. This means 50 percent of capacity with 6-feet of separations between tables. Arcades, darts, and pools are still prohibited.
Some large gatherings can resume. Indoor and outdoor venues can hold events at 25 percent of capacity, not to exceed 3,000 people. This includes zoos, indoor and outdoor entertainment venues, swimming pools, large conference rooms.
In Douglas County, for any event expecting over 1,000 people a plan for safely following guidelines must be submitted to the state for review. In all other counties, this is in place for gatherings over 500 people.
School gyms, health clubs, funeral and wedding venues, movie theatres, tattoo shops, and salons can all operate at 50 percent capacity, or 25 people (whichever is greater) while following guidelines.