NEBRASKA CITY – Southeast Nebraska offered its hospitality and energy production know-how to a crew from the nuclear submarine USS Nebraska "SSBN739" on its goodwill tour this week.
Chase Krause, the senior enlisted leader and chief of the boat for the Ohio-class submarine, said the crew enjoyed the small town feel and greetings from Navy veterans on the streets and at the Cooper Nuclear Station.
Krause: "Ran into quite a few, especially there at the nuclear power site. A lot of ex-submarine guys working on nuclear reactors on submarines, so they were able to transfer that in. We've ran into many Navy retirees or ex-served Navy guys here in town so far."
Nebraska Public Power District's president and CEO Tom Kent is a Navy veteran and former instructor at the Navy's nuclear school.
In addition to a tour of Nebraska's nuclear power generator,  the USS Nebraska crew toured the Kregel Windmill Factory Museum.
Krause, a Dallas-Forth Worth native,  said it was interesting to go from wind generation to a nuclear facility, but the biggest surprise for him was Nebraska City's apple orchards.
The submarine is based out of Bangor, Wash., so the crew is used to seeing Washington apple orchards. Krause said it was nice to see Kimmel Orchard in Nebraska City in action.
Krause: "Kind of what I expected of Nebraska, but actually at a level higher. My first trip, being on the Nebraska for a couple of years I've heard of other sailors coming out here, my first trip along with the other sailors with me and it's been great."
Keitha Thomson was one of the Blue Star Mothers co-hosting with Tammy Partsch of Nebraska City Tourism and Commerce.
Thomson: "It's part of our mission to honor our soldiers, sailors, military people – our children really – that's who we are and that's why we like to support them."
State Sen. Rob Clements gathered signatures and met with crew members Wednesday evening. The crews' goodwill tour also includes Henry Doorly Zoo and Strategic Air and Aerospace Museum.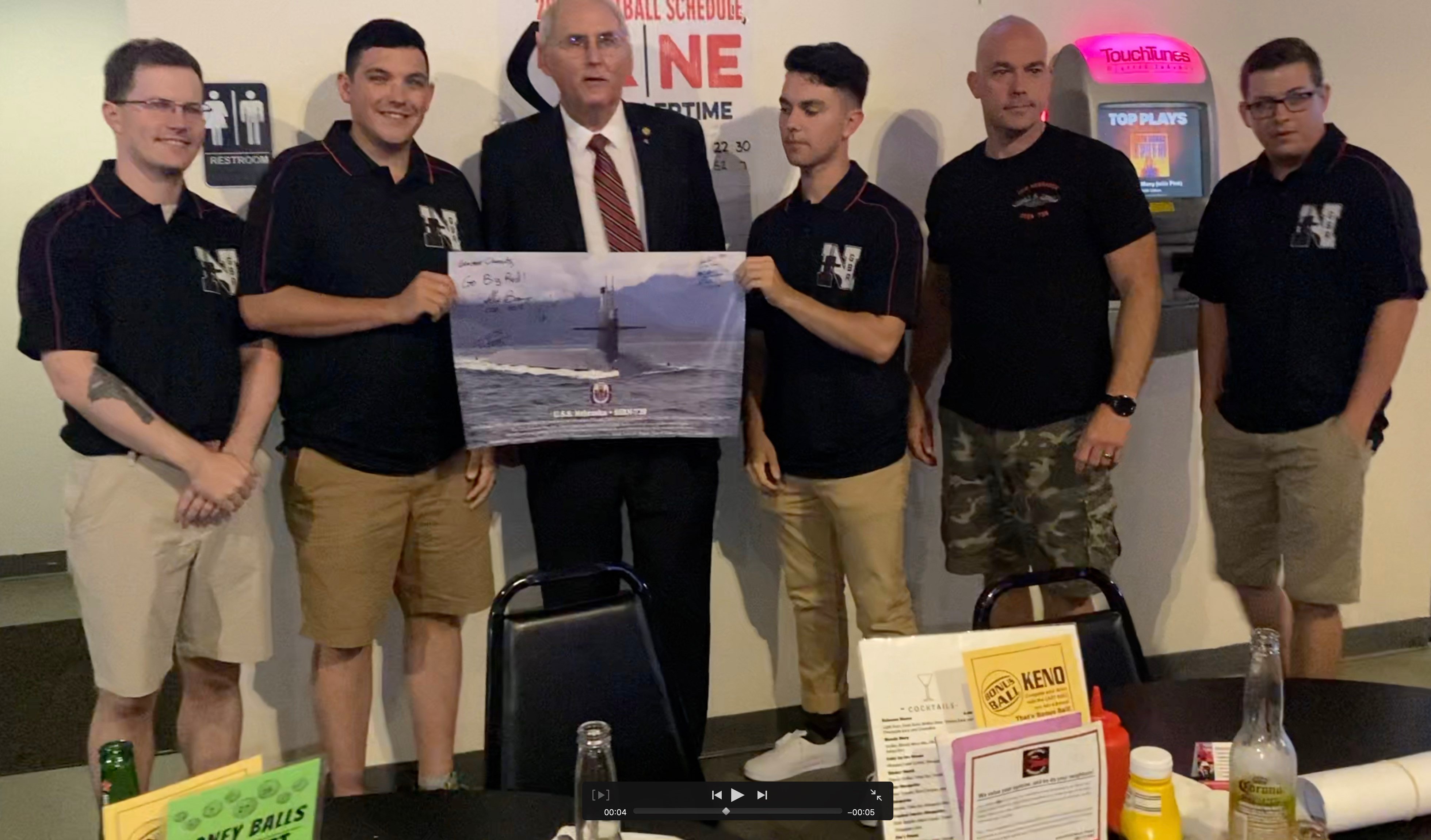 Sen. Rob Clements gets signatures for poster for his state Capitol office