NORFOLK, Neb. -- More severe weather arrived overnight in northeast Nebraska.
Thunderstorms arrived in the north central part of the state first, hitting Valentine before 10:30 p.m.
The storms then drifted eastward, where they were the heaviest, and they lingered into the early morning hours.
Some areas of the region were expecting rainfall of up to three inches, though initial rain totals exceeded that in many areas.  Radar estimates showed a widespread band of at least four inches of rain from Knox County to further southeast in Saunders County. There are estimates that some portions of Pierce County may have seen as much as nine inches of rain.
There were also multiple reports of wind gusts over 60 miles per hour and one-inch diameter hail. A viewer provided images of some of the hail that came down in the area Monday night.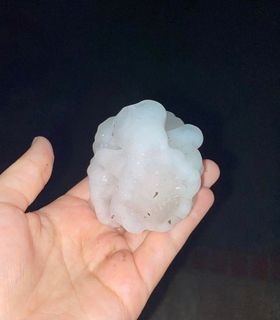 Flood warnings have been issued for Burt, Dodge, Washington, Antelope, Cedar, Colfax, Cuming, Knox, Madison, Pierce, Stanton, Thurston and Wayne Counties.
Among the areas experiencing flooding is Creighton.
Osmond also saw heavy flood waters on Tuesday, as footage from Highway 20 shows.