FALLS CITY – Deputy Richardson County Attorney Samantha Scheitel has filed charges that carry a minimum of 10 years in prison against a woman suspected of possession of illegal drugs on May 5.
A sheriff's deputy stopped a Ford Taurus where 43-year-old Christy Flaata of Devils Lake, N.D. was a passenger. An arrest affidavit says the deputy was handed THC wax and was informed that the opiod Naloxone Hydrochloride would be found in Flaata's purse.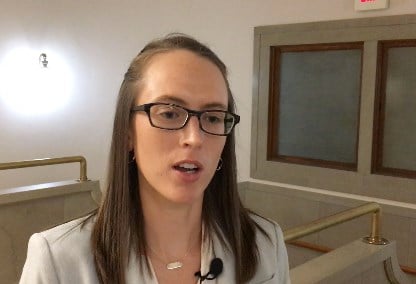 Samantha Scheitel
The county attorney's office filed charges that enhance the penalty for possession, alleging that Flaata was previously convicted and imprisoned for a drug offense in Minnesota and a burglary offense in North Dakota.
Under Nebraska's habitual criminal statutes, a conviction on the enhanced charge carries a mandatory minimum of 10 years in prison and a maximum of 60 years.
Flaata did not attend a May 24 court hearing, but sent a letter to the county judge explaining an illness. The faxed letter also says she has an important appointment with her medical marijuana doctor.
The driver of the vehicle has not been charged.