FALLS CITY – County Assessor Kim Riggs and County Treasurer Amanda Bartek-Young met with Richardson County commissioners Tuesday during discussion over a county hiring freeze.
Commissioner John Caverzagie said the county lost tax revenue last year and said elected officials at the courthouse should explain the need to commissioners if they are going to replace an employee.
Chairman Dave Sickel said elected officials have asked to hire extra employees in the past and were turned down.
Riggs and Young said they are looking to replace employees already funded by their budget, rather than expanding their staff.
Bartek-Young said her office is in line with other counties of similar size in terms of number of employees.
Sickel: "Truthfully we kind of felt like maybe your office probably had extra help anyway, since you're not going to do the inspections."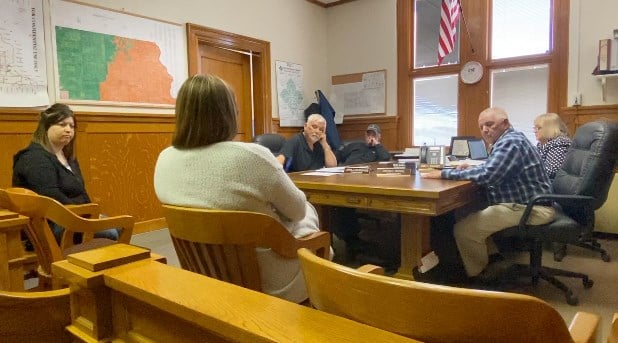 Bartek-Young said the Richardson County treasurer's office is one of five, out of the state's 93 counties, that does the inspections for vehicle identification numbers. She said her office has been doing the inspections since the sheriff's office moved to the new jail property.
There  have been instances when there was not enough staff in the treasurer's office to do inspections, but Bartek-Young said they are making an effort to do inspections.
She said no one was doing the inspections during a shut-down period of the coronavirus pandemic, so there was pent-up demand.
Bartek-Young: "When we opened back up, we were slammed because we had been closed. Everybody waited two months, so we weren't doing them then because it was customer after customer. Since that day, if they are in our office, we are making every effort to do them."