NEBRASKA CITY – The Otoe County Visitors Committee and Nebraska City Tourism and Commerce hosted a countywide tourism showcase in April at Steinhart Lodge.
Jeanna Stavas, owner of Whispering Pines Bed and Breakfast and a member of the Nebraska Tourism Commission, welcomed the event.
Stavas: "Tourism got hit pretty darn hard during the pandemic and we wanted to say welcome back tourism and let people know all the great attractions and assets we have here in Otoe County."
Attractions included the Donut Stop and Otoe County Museum of Memories in Syracuse, Lewis and Clark Center at Nebraska City and even a little about Arbor Lodge from re-enactor Darrel Draper.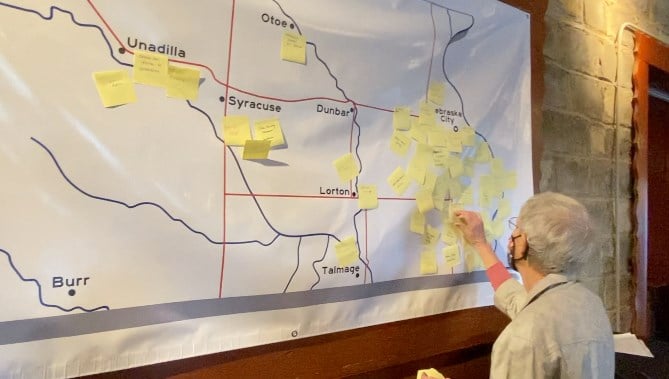 Draper: "Trees, with their respite giving shade, their succulent fruit and their sweet aroma fragrance, will self-perpetuate for an eternity. Children who are raised among flowers and trees will be better in mind, heart and spirit than children who are raised solely among hogs and cattle.
Draper: "If it were within my power I would designate a day, every year, where every person in Nebraska would be encouraged to plant a tree."
Arbor Day Foundation Vice President Austin Mackrill served on the Otoe County Visitors Committee.
Mackrill: "How do we put tax dollars to work from travel and lodging within the county and bring visitors here and use the county's impact to tell a story more."
There was wine tasting and a brochure swap for the county's attraction promoters.
Otoe County lodging tax records show five-year lows for the pandemic months of May, June and August and a decrease of $38,000 compared to prior year. Ten months into the fiscal year, Otoe County lodging taxes are down 34 percent.
Perhaps the most dramatic decline in lodging tax collections was between May of 2019, when the county collected $14,797, and May of 2020, when $4,797 was collected. The largest dollar decline in August collections, when the 2019 total of $17,186 fell to $7,166 in the pandemic August.