NEBRASKA CITY – School officials say a successful levy override election this May would solve decades of cash flow problems and end troublesome debt obligations while Economic Developer Dan Mauk said the override's failure would compound the city's seemingly, unsolvable dilemma – it hasn't grown since the year 1890.
Mauk: "Locally we have the same number of people roughly for the last 100 years, but the costs of public services – police and fire and all that – has gone up substantially in that period of time, so the same number of people have got to pay a lot more to cover our tax burden, keep the community safe and educate our kids."
Mauk said he is optimistic about Nebraska City's position to grow over the coming decades, but stagnation has not been good for school financing over the past century.
In 2020, residential properties provided 34 percent of the county's total tax bill, while commercial provided just under 7 percent. The bulk of the burden has fallen on agricultural land, which paid over half of the county's $43 million tax bill last year.
School Superintendent Mark Fritch: "The reason we are in the situation that we are in is because Nebraska City public schools has a low property value. If you take the low property value that Nebraska City has – and I can show you a real simple spreadsheet – property value divided by total students – if that number is less than $1 million, the district is taxing their community at a high rate while struggling to make ends meet."
He said the division equation for Nebraska City's school district is among the state's lowest at $680,000.
Mauk and school officials say the current state aid formula to schools is flawed, but even under the existing system Nebraska City would have received more state funds had the student population increased.
One of the selling points behind the 2007 school bond issue was that increasing student numbers would require more classroom units to keep the numbers of students per class down. Growth in enrollment did not materialize, but student demographics have changed.
Fritch: "Any student population that NDE tracks – things like poverty, free and reduced lunch, ELL, special education – those things are tracked by the department of ed because they require additional resources and funding from the state and federal government, but all of those numbers are above the state average."
Fritch said while property valuations did increase following the 2007 school bond, they have since leveled off. Repayment of the 2007 bonds was based on a 5.92 percent growth of valuation, but projections today are based on a growth model of 4.8.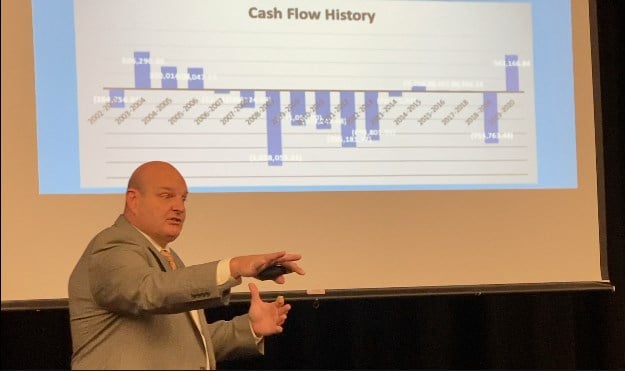 Mauk said it's a positive that Nebraska City has not diminished like many other rural communities, but sustained growth continues to elude the city.
He said Nebraska City has highway and river transportation, as well as natural gas and immense electrical generation capacity. The city's priorities for economic development are viable sites for development, workforce housing and child care. He said there has been progress, but a bankrupt school system is not part of the solution.
Mauk: "That's not going to help me at all. That's going to be a problem. If we can get people into town to look at us and we've had – we've had some international visitors this past year, three different times we've had international companies looking at our town. They are looking at those first things that I mentioned. If they get serious enough to say, 'yeah, we're really wanting to look here, I think this is going to fit' they're going to be looking then at quality of life issues and education and school issues. I don't want to trip over that road bump, if it happens."
Fritch said a levy override will solve decades of cash flow problems and allow the school board to dig out of the debt that is depleting the general fund. While payments on the 2007 construction bonds are scheduled to continue through the next decade,  budget-busting tax anticipation notes and local loans could be eliminated.
Fritch: "We're going to manage and reduce. We're going to gain the trust of our community and we are not coming back in five years."