PERU  - Dan and Elaine Hanson were recognized for their service to Peru State College as the spring semester closed.
Dr. Hanson announced his intention to resign as college president last fall and his last day is June 30.
The Nebraska Daughters of the American Revolution had previously presented Dr. Hanson with its distinguished citizen medal.
At lunch time, students, faculty and staff lined the sidewalks from Dan Hanson's office to the President's House. The gathered crowd took a moment from their last week of classes to recognize and appreciate Hanson as he walked home from lunch.
The Campus Activities Board event, a surprise for Hanson, drew almost 200 people. The gathered campus community members applauded for Hanson as he appeared for his walk home. At the end of his walk, he was greeted on the steps of his home by his wife, Elaine Hanson.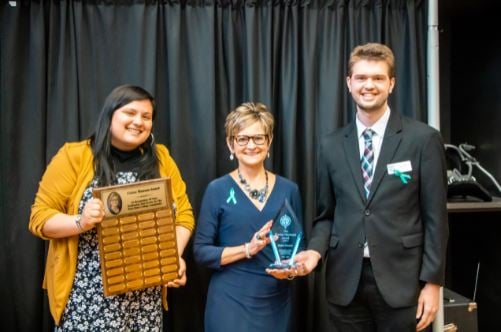 The Peru State College Student Senate awarded Elaine Hanson with the first eponymous award. It will be given in the future to community members and friends of the college, who have shown significant commitment to the college and its students.
Former Student Senate President Jared Koelzer said the new awards is to honor members of the Peru State College community beyond campus.
Koelzer: "This award is reserved for an individual (or individuals) who goes above and beyond for the Peru State College community, while not being currently enrolled in or employed by the institution."
"Winners of this award show a true dedication to the members of the Peru State College Community through their continued service to students and the institution and prove once more that the motto of 'Once a Bobcat, Always a Bobcat' is more than simply a catchy slogan."
The Hansons were were also recognized at the Spring 2021 Commencement.