HAMBURG - The U.S. Army Corps of Engineers, State of Iowa officials and Hamburg residents held a groundbreaking Wednesday for a flood protection project on Hamburg's famed west ditch.
Ditch No. 6 gained national attention after the corps announced record-breaking mountain snowmelt hundreds of miles upstream and Fremont County Emergency Manager Mike Crecelius called a meeting at the town's fire hall.
Holding his hand above his head while standing amongst a crowd of 200, he announced bluff-to-bluff flooding was imminent and water at the station would be eight feet high.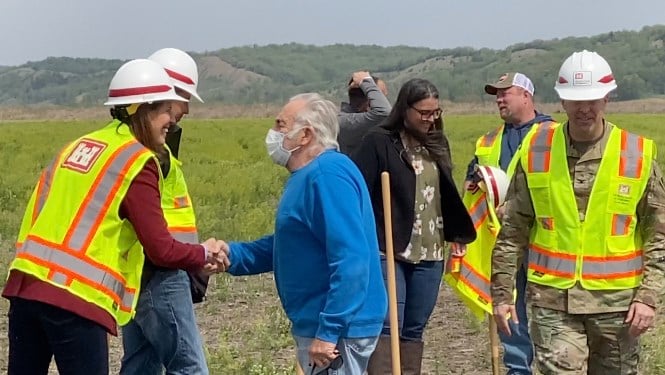 Crecelius' assessment was never tested, because the corps used borrowed soil on wet ground to raise the West Ditch levee. Hamburg remained dry until the flood of 2019.
Mayor Cathy Crain said it was clear a bigger levee was needed after the 2011 flood, but the city did not have the $5.6 million it would have taken to buy the dirt, re-engineer and reconstruct the higher levee. A Youtube flash mob video was able to raise only $56,000 of the total.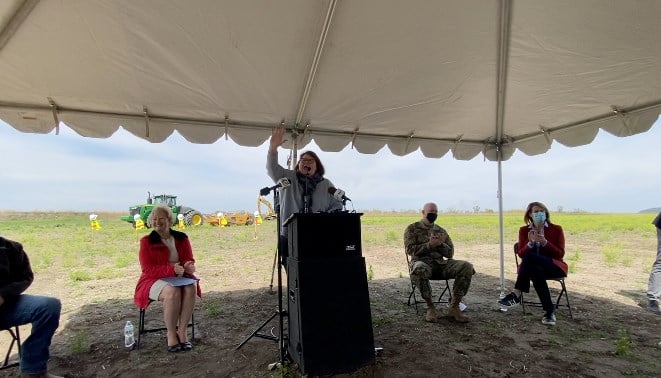 Crain: "That's why on March 18 of 2019 only a five foot levee stood to protect us when 18 feet of water overtook our town."

Two thirds of the town was flooded and only three of Hamburg's 44 businesses could open. Out of 600 homes, 73 were inundated and the city lost fresh water, sewer and natural gas for 120 days.
She said a subsequent flood surge threatened to extend the flood, but 11 heroic farmers brought heavy equipment to raise the wet levee three feet.
Crain: "The corps called and wisely said 'you can't let them, it's too dangerous someone could die,' and I said, I know, but I'm not stupid enough to tell these people they can't save their town."
Iowa Congresswoman Cindy Axne commented on the corps' extraordinary effort to save Hamburg from the catastrophic flooding of 2011 and problems afterward.
Axne: "After they raised the levee, as we know, and protected themselves from flooding, they ran into two historically tough obstacles for any town – bureaucracy and government red tape and lack of funding."
She said existing authority did not allow the corps to move money to keep the levee in 2011 and the flood of 2019 made it evident that towns like Hamburg should not have to stand alone.
Axne: "The story of Hamburg really stood over me still every single day. I knew all Hamburg had done, everything they had continued to try and do to protect their town and realized it really didn't have to be this way."
With federal financing available for flood recovery, she said she began working on the next obstacle – the red tape.
Axne: "We fixed that. Red tape and bureaucracy and lack of funding should never keep of town from being safe."
Col. Mark Himes, commander of the corps' Omaha district, said the groundbreaking marks a historic milestone for the corps of engineers and the Omaha District's flood risk management and PL 8499 levee system program because it's the first time the federal Water Resources Development Act of 2016, Section 1176 authority agreement, has been used to raise a federal levee with contributed sponsor funding.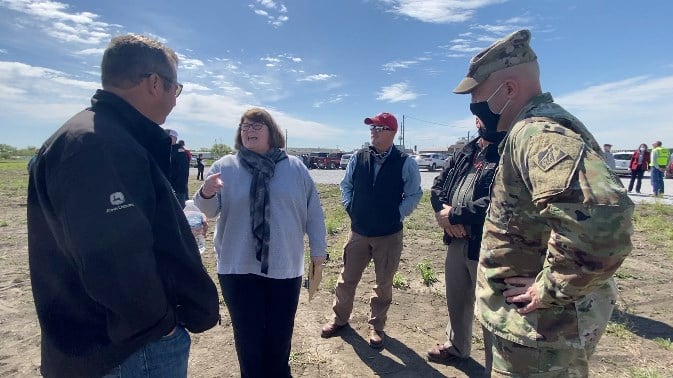 Himes: "I'll emphasis. This is the first in the nation that this agreement has been used."
Axne: "We may be the first in the country to be able to utilize this new act and break ground here, but what this means is that no other town in this country will ever have to deal with what Hamburg has had to deal with over this last decade."
Hamburg, using federal economic development and state funds, agreed to pay $7 million for its share of the project. The amount is the difference between the cost of repairing the levee to pre-flood condition and the cost of the additional eight feet.
Himes: "It's a reflection of strong leadership to pull together those who can bring technical expertise and partnered funding to solve large, water resource challenges such as this. Hamburg's resolve to provide additional flood resilience serves as an example to other communities along the Missouri River and throughout the nation, who face similar challenges."
Col. Himes said the levee restoration program following the 2019 floods has the capacity to continue to work on all of the levee systems from Omaha to Rock Port, Mo.
He expects work to begin immediately and be complete in six months.