NEBRASKA CITY – The 2021 Arbor Day Tree Planter of the Year not only plants trees, but grafts new ones into existence and even has his own catch phrase – "Life is always a shade better under a tree."
Doug Grimm, a certified arborist who specializes in shade trees, introduced the Sugar Maple 'Oregon Trail' in Hiawatha, Kan., - the city of Maples.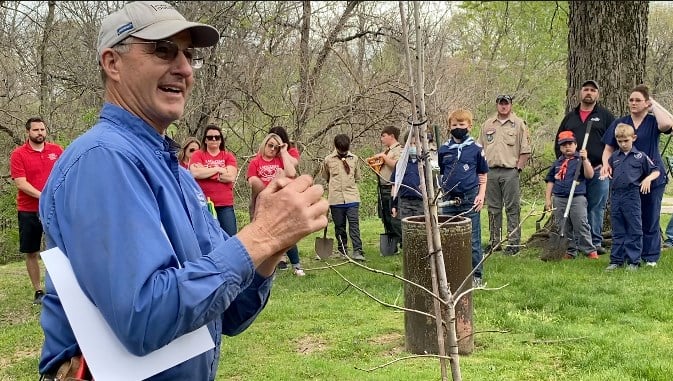 Although most public Arbor Day events were canceled last spring due to the pandemic, Grimm helped make sure there was still a tree planting. He introduced a tree specifically grafted for Nebraska City – the raspberry twinkles. The tree based on the redbud was flowering at the NCTC yard over the 150th Arbor Day celebration.
NCTC's Tammy Partsch gave high compliments for the tree and this year's tree planter.
Partsch: "Every since Grimm's Gardens expanded to Nebraska City, they've been involved in the community from tree plantings to bumpouts to flower baskets, which were hung today."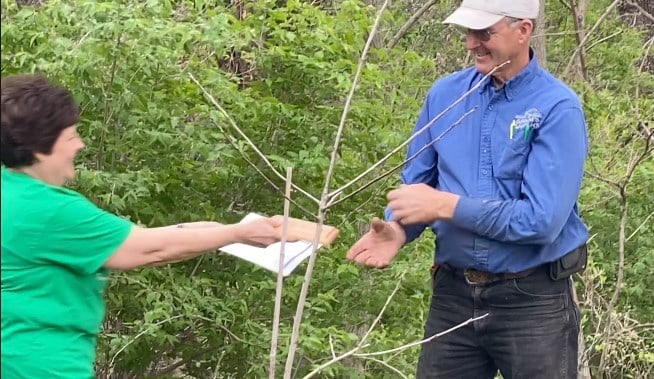 Grimm is from Hiawatha, Kan., but said he considers Nebraska City his home away from home.
Grimm: "I have introduced a number of trees to the industry and a couple of them have come from right here in the town of Nebraska City. Trees that were planted, seed-grown trees that grew into being something special, unique and above the average of that species."
He said an oak tree at Arbor Lodge is another grafted creation.
Grimm gave a spontaneous demonstration of tree identification prior to the community tree planting of 50 trees.
The Boy Scouts planted trees one through 11.