SYRACUSE - Syracuse Fire Chief Eric Fass presented Bruce Neemann with the Nebraska Admiral award. Fass read the following during the city council meeting and presented Mr. Neemann with the plaque.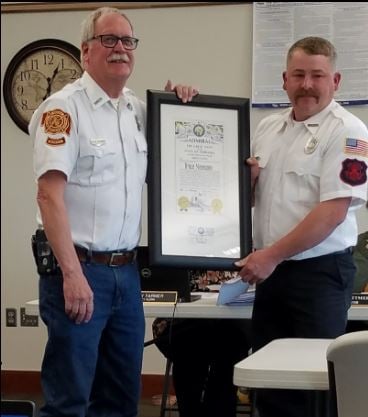 Nebraska Admiral is Nebraska's highest honor and an honorary title bestowed upon individuals by approval by the governor of Nebraska, the only triply landlocked U.S. state. It is not a military rank, requires no duties, and carries  with it no pay or other compensation. Admirals have the option of joining the Nebraska Admirals Association, a non-profit organization that promotes quote The Good Life" of Nebraska.
The award certificate describes the honor in a tongue-in-cheek fashion:
And I [the Governor of Nebraska] do strictly charge and require all officers, seaman, tadpoles and goldfish under your command to be obedient to your orders as Admiral ---and you are to observe and follow from time to time, such directions you shall receive, according to the rules and discipline of the great Navy of the state of Nebraska.
The use of the title of admiral, instead of some other high-ranking military title, is a humorously ironic reference to the fact that Nebraska has no navy, both because it is landlocked and has no oceans, seas or major lakes to defend, and because it relies on the United States Air Forces for defense and has had no active state defense force since 1972.
History 
The Great Navy of the State of Nebraska was created in 1931. The Lieutenant Governor of Nebraska at that time, Theodore W Metcalfe was serving as Acting Governor of Nebraska while Governor Charles W Bryan was outside the state. At the urging of some of his friends he appointed "20-25 prominent Nebraskans" as Nebraska Admirals.
 Commissions in the Nebraska Navy have always been given to prominent citizens both inside and outside of Nebraska. However, anyone can request or be nominated for an admiralship as long as he or she has  "contributed in some way to the state, promote the good life in Nebraska, and warrants recognition as determined by the governor ".