TECUMSEH – Farmland presented the national FFA organization with a $100,000 check Friday at the Johnson County Fair in Tecumseh.
Matt Riggins of Farmland said the county fair setting is a proper capstone to the Honoring the Heartland Tour that started in June and includes nearly 40 stops in Iowa, Kansas and Nebraska.
Riggins said Farmland and the FFA share many values toward training and encouraging the next generation of leaders.
Riggins: "The reality is there are a lot places in the United States that do not have an FFA chapter. Really it takes me back to the primary mission here is awareness and education and really letting people know the mission has grown and evolved. It's not so much about letting people know how you show a hog at the county fair. It's not as much about how you start a John Deere tractor, it's really more about how do we get kids involved in agriculture."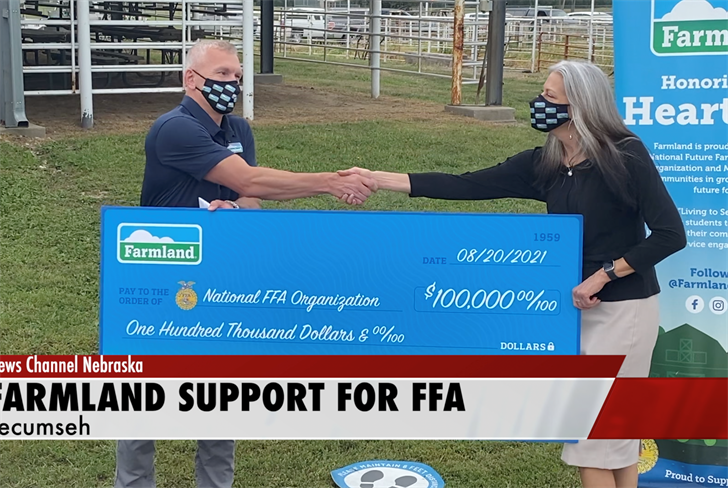 He said the mission includes reaching out to students who do not have a traditional background in agriculture, like Emma Kuss of Seward. She said the Farmland donation will help FFA's "True Blue" programs and its "I Believe in the Future of Ag" initiative.
Kuss: "Growing up I wasn't in agriculture until I actually got to high school my freshman year.
Kuss: "I was introduced to FFA and I found a pathway and a career option and now I'm going into college to actually study horticulture."
FFA Regional Director Cassy Puskala said the donation will help prepare young people for the challenges of feeding a growing population.
Puskala: "The national FFA organization creates the next generation of leaders who are going to change the world. That's going to be in agriculture, business, technology, science and the arts. Without partners like Farmland we're not able to do that."
The Farmland food truck was also on the fairgrounds serving BLT sandwiches featuring the company's classic cut bacon.