NEBRASKA CITY – A fragmented Nebraska City City Council rejected a $64,000 proposal Monday for professional design and care of plants in street bumpouts on Central Avenue.
The council earlier granted Doug Grimm of Grimm's Gardens access to the bumpouts after business owner Kelly Bequette said the planting areas needed more appeal. Local business owners have been responsible for bumpouts since the city discontinued its horticulturalist position more than a decade ago.
Grimm told city commissioners Monday there was more work and more expense than he anticipated when he and the flower committee set out this summer. Grimm said he would donate about $9,000 in labor for the work already completed in the bumpouts.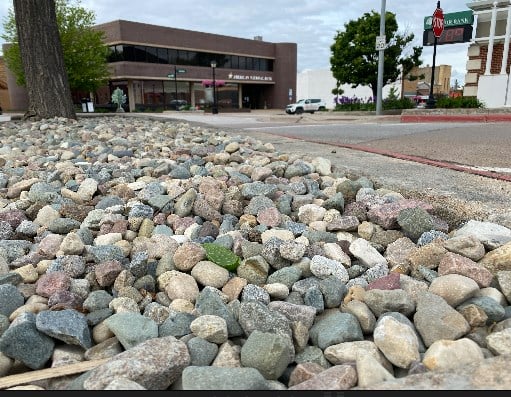 Flower committee reacted to bumpouts with river rock like this near the Otoe County courthouse
The itemized list of expenses in the future includes the purchase of annual flowering plants that Grimm says will create a "wow factor" for those walking or driving downtown. He said the city is aware of the positive economic benefit that flowers provide a business district.
Parks Commissioner Patrick Wehling and Public Works Commissioner Paul Davis said the price tag of $64,000 over four years is too high. Finance Commissioner Gloria Glover moved in favor of the expense through the Nebraska City Growth Fund, but the motion died for lack of a second.
Economic Developer Dan Mauk said the flower committee  was able to raise about half of the remaining cost of the bumpout materials this summer.
Mayor Brian Bequette and Street Commissioner Vic Johns were absent from the meeting.