NEBRASKA CITY – An overflowing crowd crammed into the Nebraska City School Board's central office meeting room and hallway Monday, where citizens asked to know board member's stance on issues of sex education and critical race theory.
Rick Bennie: "We came to our local school board tonight not to try and change their minds. We would hope and pray that they are on the same page as we are and have the same opinions that we do, but we know we can't change opinions. All we can do is ask and what we did tonight is ask them to let us know what their opinion was."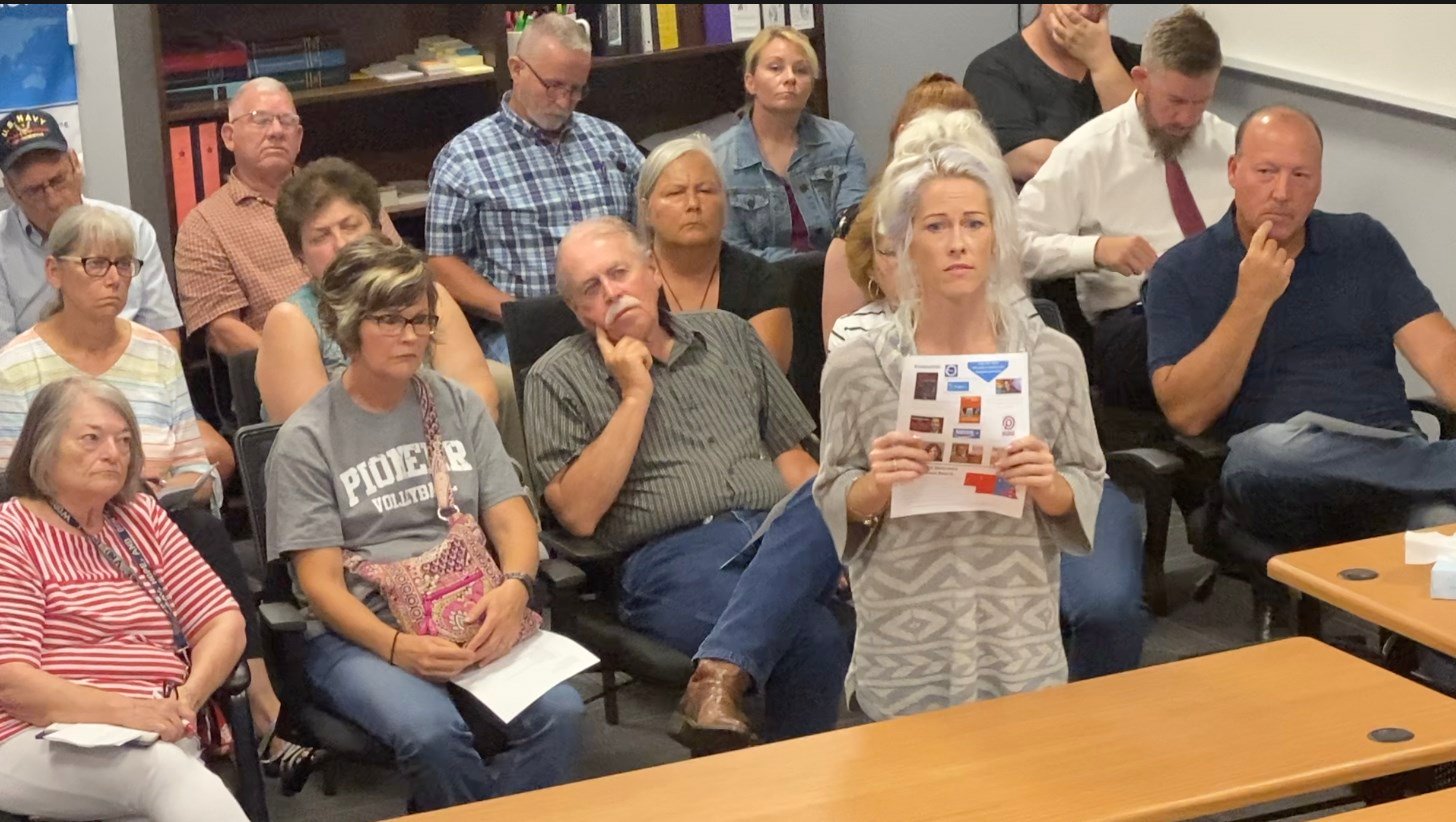 Melissa McClanahan noted that less than 20 percent of school districts have signed the resolution opposed to the first draft of new state health standards.
McClanahan: "Fifty other districts in Nebraska signed this resolution just to simply make a statement saying we are opposed to these type of ideologies in school. It is indoctrination. So, out of 243 schools, the majority is silent and that is consent. That is compliance."
McClanahan said she has asked to have the resolution put on the school board's agenda, but has not found a school board member willing to assist. She said other attempts to get a public declaration of opinion from the school board members have been unsuccessful.
School Board President Kent Blum said Tuesday he has been asked to place the resolution on the agenda, but has declined. He said while he is not in favor of the proposed sex education standards as written in the first draft, he favors withholding his opinion until he sees the final version. He said there still could be some good come of the process.
He said any board member can request an agenda item for a meeting, but he is not aware of any board member requesting a vote on the resolution.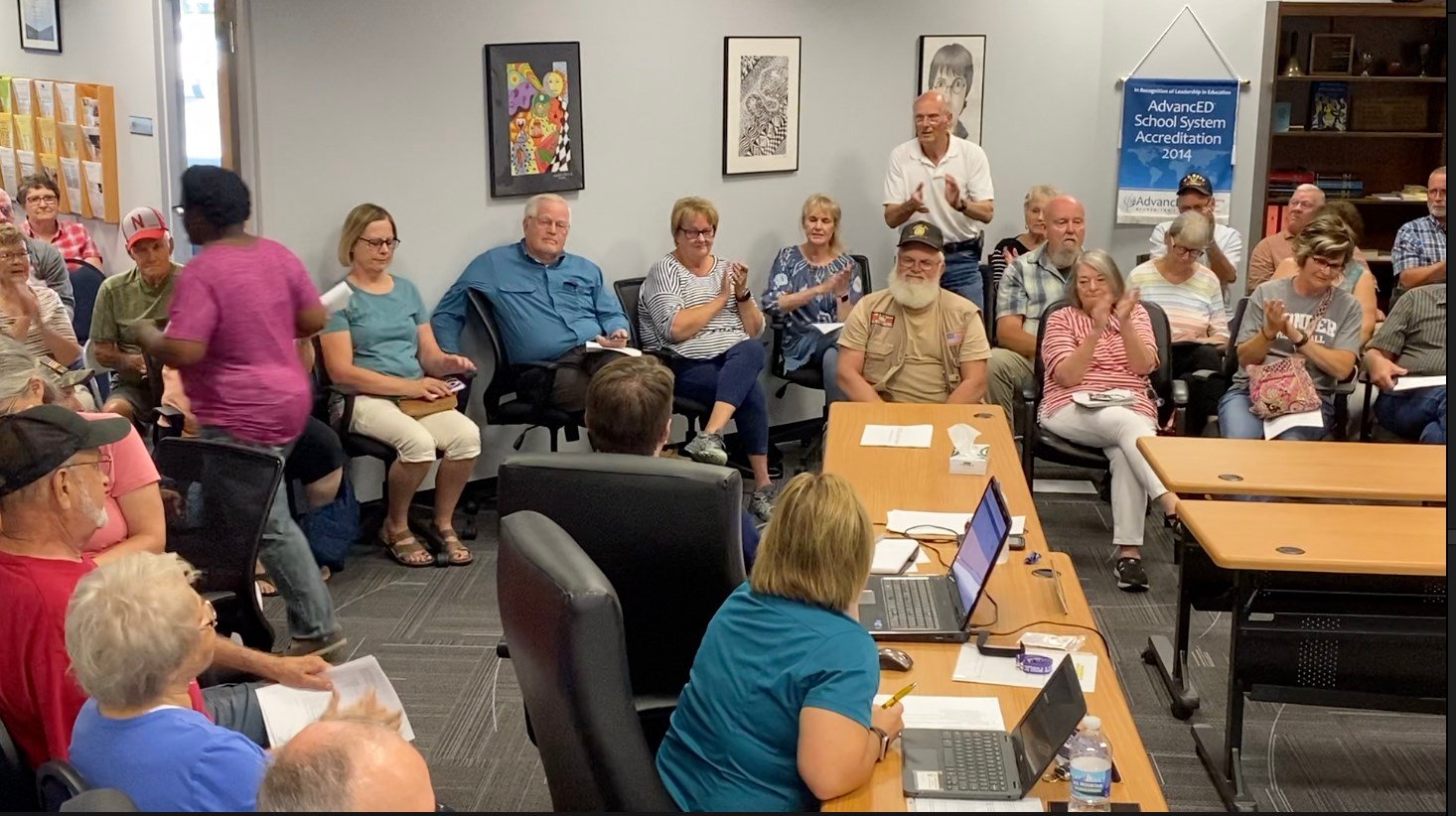 Blum: "The board itself as a whole wants to be pragmatic about how they are dealing with this. They want to know what's coming and how to deal with it and want to make sure they have all the facts before they do anything."
Parent Rick Bennie urged the school board to make its opinion known to the state and to the voters.
Bennie: "It is very critical that our school board tells us where they stand on these issues. If they are for them, if they are against them or somewhere in between."
Blum said it is not appropriate for board members to offer opinions on social media. He said they could offer personal opinions, but not board opinions.
Bennie: "We just want to know where our school board stands because we want to know as citizens whether they stand with us, in our values, and, if they don't, we know that we don't want to re-elect them to stand for us because they don't stand for us, they stand for their own issues."
Shelly Ramage was among the 45 people attending Monday's meeting. She asked the school board to avoid critical race theory in the curriculum, but rather embrace the idea of national identity.
Ramage: "We're Americans. Anything else that comes in or points out differences, well that's what hurt us, pointing out our supposed differences, let's leave that. We're all Americans."
In regard to sex education, she said misguided instruction will have disastrous impacts.
Ramage: "If you want to turn Nebraska City into a giant ghetto, like where I came from, teach that sex is okay outside of marriage."
McClanahan said she is especially concerned about comparisons of proposed education standards to the grooming of children for sexual gratification.
Blum said the word grooming, which was used at town hall meetings organizes by Gov. Pete Ricketts, is identified in recent state Legislation as illegal. He said allegations of grooming within a school would necessitate an investigation.
The board did discuss its current health standards on Monday, but McClanahan said the citizens are no closer to learning how members stand on issues.