NEBRASKA CITY – The Arbor Day Foundation gave away over 800 tree seedlings and the String Beans got children primed for the tree planting dance at Arbor Lodge State Park Friday.
Brad Kindler, grounds and orchard manager at Arbor Day Farm, said the mission of the Arbor Day Foundation is to inspire people to plant, nurture and celebrate trees. He said a lot of times a free tree is the most memorable thing that comes from a visit to Arbor Day Farm.
Kindler: "We find that when people leave our property with a tree in hand, they go home with their family, they plant it and it's one of those kind of immediate results of their interaction with our farm."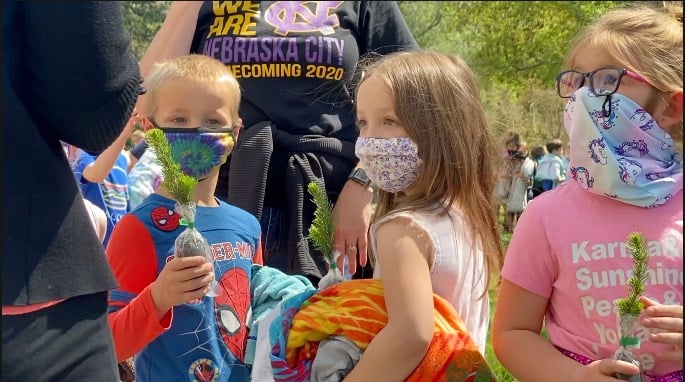 The seedlings handed out were Colorado blue spruce.
Kindler: "They get very large. They can grow up to 45 feet tall, maybe even larger in kind of a native context. We have several of them here on the property at Arbor Lodge State Park and so it's just kind of an iconic tree for the area."
He said it's a tree that stands out because of its foliage and color and, with a little TLC,  has survivability in the area.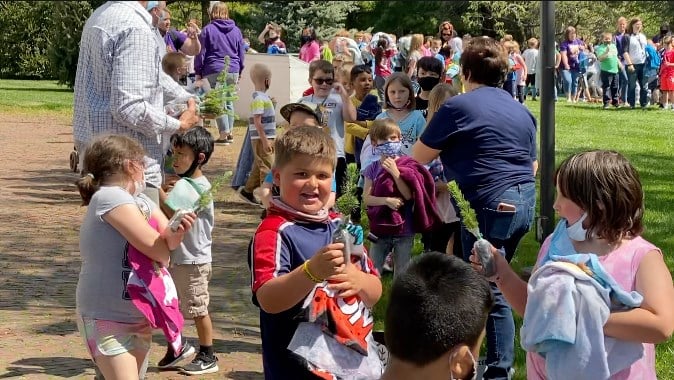 Kindler: "One of the most important things when we talk about planting a tree successfully is to make sure it's in the right place. For the blue spruce, there needs to be plenty of sunshine and room to grow."
Kindler: "The other thing I would say is sometimes people plant it in an area where it's away from what they would otherwise be looking at regularly and it so often suffers from neglect. I just advocate, if people plant a tree, choose a location where they are going to pay attention to it. Often times, if you just pay attention to what you've planted, it will succeed."
Kindler's tree planting demonstration included the tree dance, featuring a stomp for the roots, hands up for sprouts, shaking for growth and finally a rigorous reach for the fruit.