NEBRASKA CITY – Arbor Day Farm held a groundbreaking Friday for a new apple house project that demonstrates resiliency and reinforces the Arbor Day Foundation's mission.
Forging ahead from a summer of social distancing and the coronavirus pandemic, Arbor Day Farm was days away from last falls' annual AppleJack Festival when fire broke out in the Porters BBQ area. Flames marched up the roof of the building, leaving observers to expect the historic apple house to be lost.
President of the Arbor Day Foundation Dan Lambe opened Friday's ceremony with gratitude for firefighters who extinguished the fire and sparked opportunity.
Lambe:  "This space is going to create viewing experiences, learning experiences, demonstration experiences around conservation and resiliency through solar power. Through the demonstration of how we ship trees all around the United States from Arbor Day Farm, there will be so many touch points for people to see and learn about the work of the Arbor Day Foundation and the legacy and history of Arbor Day Farm."
The Arbor Day Foundation released plans for a new facility connected to the historic apple house that will host the restaurant and apple market, and designs to allow visitors see how millions of trees are sorted for shipping, apple sorting and cider pressing.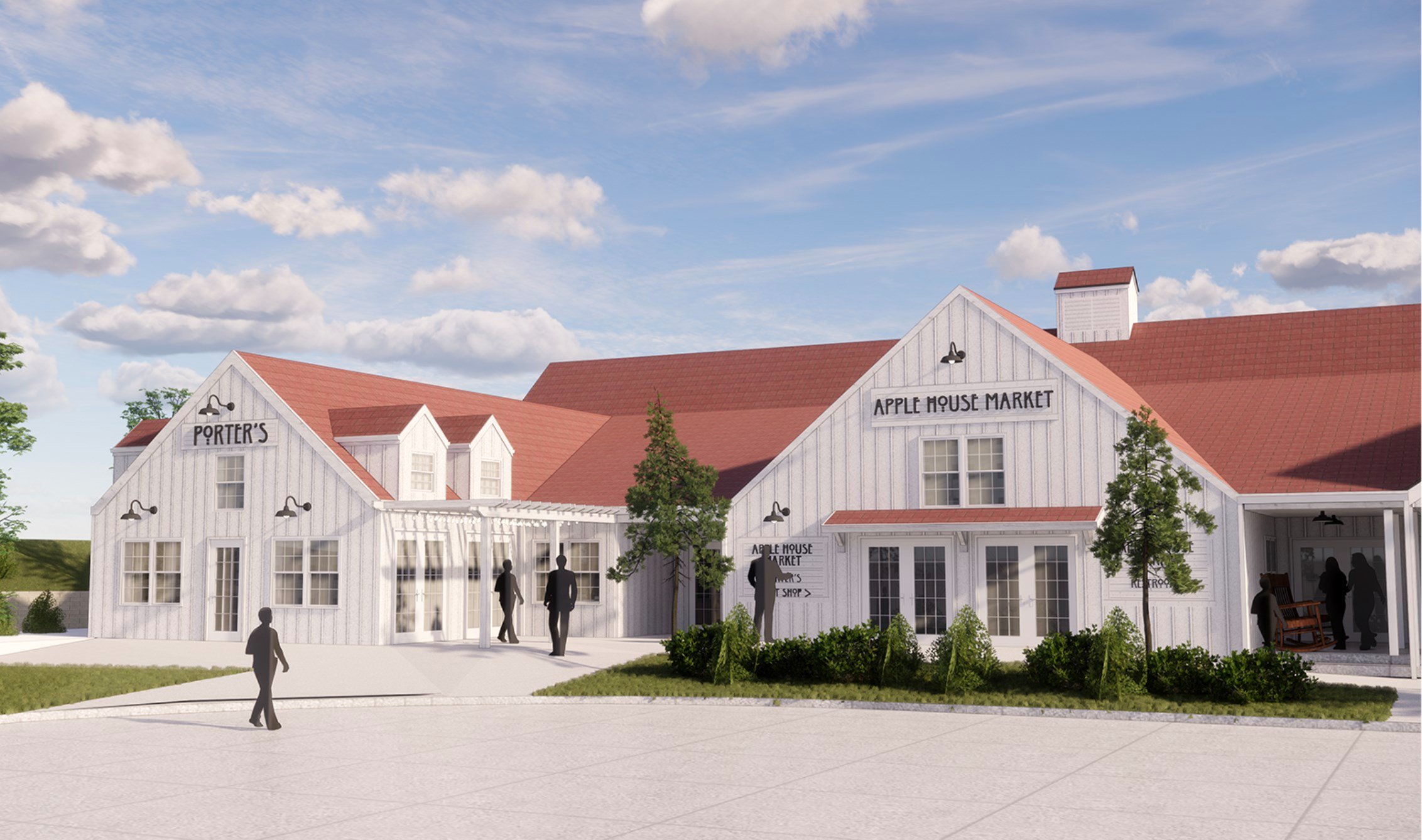 Arbor Day Farm Vice President Austin Mackrill said the new facility will demonstrate how the Arbor Day Foundation is transforming communities through their experiences with trees.
Mackrill: "We always say that Arbor Day Farm is where our mission comes to life for the Arbor Day Foundation and we're excited that this place, Apple House Market, really became the impetus, as we started thinking through what was a tragedy of a fire, now how can we reimagine this to inspire people. That's what the first word of our mission is, to inspire people."
Nebraska City Mayor Bryan Bequette commended  Arbor Day Farm for its optimism and the Nebraska City Fire Department for its mission focus.
Bequette: "I think their efforts, as quickly as they responded, as professionally as they dealt with the situation, allowed Arbor Day Farm to salvage much more than they thought possible with the size of the fire."
Also participating in the groundbreaking was Arbor Day Foundation CEO Matt Harris, who announced that facility renovations are being paid for by insurance money from the fire and an additional $1.7 million in private donations. The new space is expected to be ready in early 2022.