NEW YORK—The Alzheimer's Foundation of America (AFA) will host a free virtual educational conference as part of its national Educating America Tour to help Nebraska residents affected by Alzheimer's disease, caregivers, and anyone who wants to learn more about the disease, on Tuesday, December 8, from 10:00 a.m. to 12:30 p.m. CST. The conference, which is free and open to everyone, will provide information and advice from health and caregiving experts. To register, go to www.alzfdn.org/tour.
"Knowledge is a useful and powerful tool that can help make any situation easier to navigate. That's especially true now as approximately 35,000 Nebraska families are caring for a loved one with Alzheimer's in the midst of the COVID-19 pandemic," said Charles J. Fuschillo, Jr., AFA's President & CEO. "We want individuals who are caring for someone with Alzheimer's to know about the resources available to help them and steps that they can take to improve their loved one's care and quality of life. This conference will bring that information directly to families without having to leave their homes."
Dr. Mehmet Oz, host of The Dr. Oz Show, will be a guest speaker and share his family's personal Alzheimer's story regarding the diagnosis of his mother, Suna Oz, last year. Dr. Oz will describe how the diagnosis impacted his family, as well as share tips to promote good brain health and healthy aging.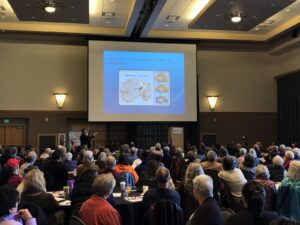 Sessions during the AFA virtual conference will include:
Alzheimer's Research in Nebraska – Three medical experts from the University of Nebraska Medical Center will provide an update on ongoing Alzheimer's research efforts, including new advancements and what we can expect on the horizon. They will also discuss the recently established 'Great Plains Primary Care Practice Based Research Network' (PBRN). Established to improve access to healthcare resources and promote primary care research across the Great Plains, this PBRN encompasses a supportive and collaborative network of clinics, clinicians, and investigators who experience similar healthcare challenges and shared research goals.
The speakers for this session include Dr. Howard Fox, MD, PhD, Associate Dean of Research and Development at the University of Nebraska Medical Center; Dr. Daniel L. Murman, MD, MS, FAAN, Professor with the Department of Neurological Sciences at the University of Nebraska Medical Center; and Dr. Matthew Rizzo, MD, FAAN, the Frances & Edgar Reynolds Chair of the Department of Neurological Sciences at the University of Nebraska Medical Center.
Legal Documents and More – Protecting Yourself and Your Family– Having the necessary legal documents in place is extremely vital when a family is confronted with a dementia diagnosis. Catherine Swiniarski, Managing Attorney and Owner of Elder Law of Omaha, P.C., L.L.O., will review powers of attorney, medical directives, wills, and trusts, which are all vital in helping families to plan their long-term care. She will talk about the importance of getting these documents in place before capacity to do so is lost.
Prepare to care– No matter where you are in the journey of family caregiving, having a good framework to guide both you and your loved one will make the process easier. Charles M. Williams, AARP Volunteer and Executive Council Member, is a caregiver for his aunt and uncle. He will share his experiences and provide other caregivers with a framework to help them make plans to care for friends, family members, or loved ones.
For more information or to register, go to www.alzfdn.org/tour. Those who can't participate in the virtual conference or have immediate questions about Alzheimer's disease can connect with licensed social workers seven days a week through AFA's National Toll-Free Helpline at 866-232-8484 or via our online web chat system (available in 90+ languages) at www.alzfdn.org by clicking the blue and white chat icon in the right hand corner of the page.
About Alzheimer's Foundation of America (AFA)
The Alzheimer's Foundation of America is a non-profit organization whose mission is to provide support, services and education to individuals, families and caregivers affected by Alzheimer's disease and related dementias nationwide and to fund research for better treatment and a cure. Its services include a National Toll-Free Helpline (866-232-8484) staffed by licensed social workers, the National Memory Screening Program, educational conferences and materials, and "AFA Partners in Care" dementia care training for healthcare professionals. For more information about AFA, call 866-232-8484, visit www.alzfdn.org, follow us on Twitter or connect with us on Facebook, Instagram or LinkedIn. AFA has earned Charity Navigator's top 4-star rating for six consecutive years.