BROKEN BOW—Prior to its 16th annual banquet, the Mid-Nebraska Friends of NRA joined the Broken Bow Chamber of Commerce with a celebratory ribbon cutting on Saturday, March 7.
Friends of NRA (National Rifle Association) began in 1992 and the local chapter, Mid-Nebraska Friends of NRA, started in 2005. The 12-member board was preparing for a sold-out annual banquet following the ribbon cutting with approximately 400 meal tickets sold.
Vice Chairman Matthew Haumont said Mid-Nebraska Friends of NRA is a local, grassroots fundraising effort for the NRA Foundation. Haumont said the non-political organization sends half of its funds to the national level with the other half staying in Nebraska for youth safety and education programs, women's programs, law enforcement, and conservation efforts.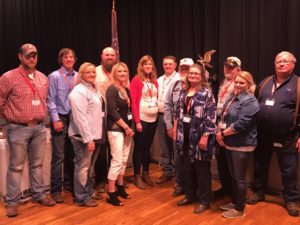 Mid-Nebraska Friends of NRA is involved with local grant processes, 4-H clubs, the One Box Gun Club, and recently funded a grant for the roof replacement of the Shooting Sports Building (Building 18) at the Custer County Fairgrounds.
As for the decision to join the Broken Bow Chamber of Commerce, Chairman Adam Forster said the Friends of NRA wanted to get more exposure out to area businesses and the organization appreciates the chamber's help with ticket sales.
"It was really handy this year having them for ticket sales. All of us work and so during the day if we had people call wanting tickets, they got tickets and they handled it for us and it worked really well. It was a real blessing to have them this year, honestly," Forster said.
Forster first decided to learn more about the Mid-Nebraska Friends of NRA because of his son's involvement with Custer County's 4-H shooting programs.
"The money that we raise—we're actually a non-political chapter of the NRA. So when you start one of these banquet committees and all that, you have a choice: you're either on the political side or the non-political side," Forster continued. "And being on the non-political side, we're not selling memberships to the NRA or anything like that. Friends of NRA is solely raising money for youth shooting programs, gun safety programs in schools and stuff like that."
Forster added that other programs the Friends of NRA is associated with include Fathers in the Field, Eddie Eagle, and self-defense for abused women among others.
On March 7 the board members thanked businesses and individuals for their donations, underwriting, and support of the organization's educational programs.
"It hit home to me because of what it's doing. Politics—I mean I have my opinion, everybody has their own but I don't hardly like getting involved in it too far. This I could get behind all day: it's all for kids, you know, and for good programs," Forster told KCNI/KBBN.
Anyone interested in getting involved or learning more about the Mid-Nebraska Friends of NRA can contact Adam at 308-870-2619.