A Flood Watch remains in effect from 1 am CDT Saturday through Saturday evening. The risk of heavy rainfall and flooding late tonight through Saturday evening is becoming more likely. This Flood Watch is active in the counties of Custer, Blaine, Boyd, Brown, Garfield, Holt, Keya Paha, Loup, Rock, and Wheeler.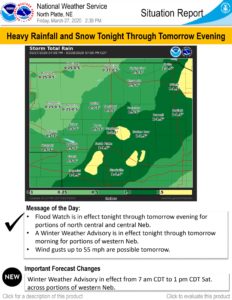 Conditions are expected to become favorable for flooding late tonight through Saturday as moderate to heavy rainfall falls on ground with high soil moisture across north central Nebraska. Total rainfall of one to one and one half inches is predicted. The flooding concerns revolve around increases in standing water, lowland and rural flooding, and rises on rivers such as the Elkhorn river. Furthermore, present high water and flooding issues on area roads could further be exacerbated as well. While major flooding is not anticipated, minor flooding is possible.
A Winter Weather Advisory has been issued for late tonight through Saturday morning across parts of western Nebraska as well. Wind gusts up to 55 mph are possible tomorrow (Saturday). Light snowfall of 2-4 inches with locally higher amounts across southwestern Sandhills.