BROKEN BOW–"To love and to cherish, for richer or for poorer, in sickness and in health," as the vows read and still hold true today for four couples who celebrated vow renewal ceremonies this month.
Residents of Off Broadway Assisted and Independent Living in Broken Bow hosted a special vow renewal ceremony on the perfect day to celebrate love–Valentine's Day.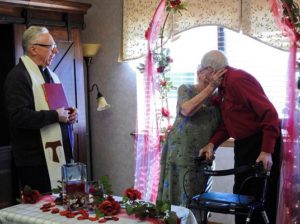 Marketing Director Teri Hunt said the staff at Off Broadway wanted to celebrate love and create some beautiful memories for families and friends.  "We wanted to bless the residents and I think that happened!" Hunt said.
Father Jim Hunt of St. Joseph's Catholic Church and Pastor Tim Moran of the Berean Bible Church conducted the vow renewal ceremonies.
The four couples were recognized for a combined more than 250 years of marriage.
Congratulations to the following couples:
Richard and Marilyn Shinn
Dwain and Emma Lou Gunther
Travis and Kimmy Cassell
Clarence and Mary Lou Carr