BROKEN BOW—The first Broken Bow Chamber of Commerce Ribbon Cutting and Open House since March was held on Friday, July 24 following months of COVID-19 state restrictions. Courtney Kusek is the owner of Klipz and Kurlz (a full service salon located at 436 S. 8th Avenue in Broken Bow) and was thrilled to host the special event after a three-month postponement.
Kusek worked for Judy Moninger at Judy's Hair Styling for about four years before purchasing the building in early 2020. Judy served the community for 40 years and worked in the downtown location since 1991. The hair shop on the square has been a cornerstone business for decades and Kusek is anxious to get back to business as usual following COVID-19 shutdowns.
"That's what I'm most excited about—get back to normal. I missed normal, I missed being able to see the people, I missed people coming in and sitting and chatting while I was doing someone else's hair," Kusek said.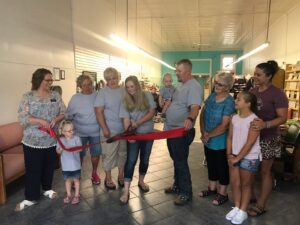 Kusek said she is very much a people person and missed being able to have conversations with her clients and other business owners.
Many of Kusek's family members were present at the anticipated ribbon cutting including her husband Kendel, daughter Kaydee, son Kaysen, among many other parents, grandparents, and close friends.
"It's awesome, it makes me super emotional!" Kusek told KCNI/KBBN regarding the support from family and friends.
The store has been repainted, a name and logo have been updated, and a new sign hangs on the storefront. Klipz and Kurlz offers family haircuts, styles, facial waxing, perms, colors, shellac and regular polish manicures and pedicures.
The salon is open Monday through Friday 9 a.m. to 5 p.m. and can be reached by calling 308-872-5123.