BROKEN BOW–Safety is the top priority for Black Hills Energy and together with the Broken Bow Fire Department they work to keep the public protected.
A $1,000 check was presented by the natural gas utility to the Broken Bow Fire Department on Tuesday, February 18.
The Community Affairs Manager at Black Hills Energy, Melissa Garcia, said in a press release half of the money is to be used for the fire department to purchase smoke/ CO detectors to be given away to families who either do not currently have them, or have detectors that have passed their expiration dates.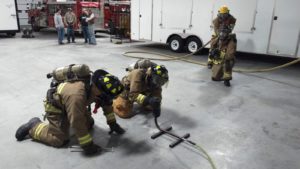 "This time of year as the cold weather rolls in there is an increase of calls for house fires or carbon monoxide exposure that could easily be avoided with the proper installation of a smoke and CO detector," the press release stated.
Black Hills Energy Service Specialist Trent Fecht told KCNI/KBBN the two entities work together often and the staff at Black Hills Energy wants to give back to the fire department when it comes to keeping the public safe as well as maintaining equipment.
"We at Black Hills work with Broken Bow Fire Department a lot. Could be a gas leak call, could be a carbon monoxide call, could be a fire call. We work with them a lot and these guys have a lot of training equipment that they need to upkeep and there's a lot of expense when it comes to a call and they've helped us on several calls and continue to do so," Fecht said.
Firefighter Lance Oatman said donations like this have been used in the past to purchase gas monitors to read gas levels in houses, which result in more protection for the public and safer working conditions for the fire department. Oatman also said equipment like this needs to be updated and maintained frequently.
"We thought we could give back to the fire department in two ways: Half of the money going to carbon monoxide detectors that folks that do not have one can get from the fire department and they will install it. And then half of the money will go toward their training activities or whatever they need to use that $500 for," Fecht added.
"It's  a great opportunity to work with Black Hills Energy so we can get carbon monoxide detectors into peoples homes that don't actually have one in their home," Fire and EMS Coordinator Andy Holland said.